Sinn Féin chairman Declan Kearney 'sorry' for all Troubles victims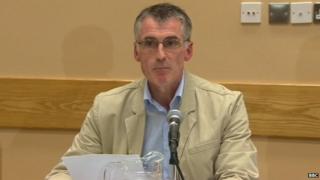 Sinn Féin's national chairman has said he is sorry for all the lives lost during the Troubles.
Declan Kearney said he acknowledged "without exception" the loss and pain of the Troubles and regretted that it could not be undone.
He was sharing a stage with Northern Ireland's police chief at an event in Londonderry entitled Uncomfortable Conversations.
George Hamilton said he does not doubt Sinn Féin's commitment to peace.
The Police Service of Northern Ireland's (PSNI) chief constable said his trust in Sinn Féin was "why I do business with them".
Mr Kearney said he felt regret for all the families of victims of the Troubles, but added that there was no hierarchy of victims.
Existence
"I am sorry for the pain experienced by the RUC family during the war, the suffering caused to the unionist section of our community, the human tragedy of the Shankill bomb being one instance of that," he said.
"And equally for the pain of IRA volunteers killed in this command area here in Derry and elsewhere."
The event was the first time Mr Hamilton had shared a public platform with Sinn Féin since he said on Saturday the Provisional IRA was still in existence.
He said that some PIRA members had been involved in the murder of ex-IRA man Kevin McGuigan Sr in Belfast earlier this month.
Sinn Féin has rejected those claims.
After the debate, Mr Hamilton said that while he did not agree on everything with republicans he did recognise the Sinn Féin's leadership's support for the peace process.
Sanctioning
"Our experience over the last 10 years does not point us towards the senior leadership of Sinn Féin being involved in authorising or sanctioning serious criminal acts or any criminal activity.
"If that changes, we will say so - simple as that."
During the event, Mr Hamilton was challenged by the sister of one of those killed on Bloody Sunday.
Kate Nash, whose brother died after members of the British army opened fire on civil rights marchers in Derry in 1972, said the families of the victims had not heard from the PSNI in over a year.
Mr Hamilton said it was "unacceptable" they had not been given an update on the status of the Bloody Sunday investigation.
He added that it was a priority for him and he promised to contact to the families with a progress report.