Matt Allum survives high speed fall in French Alps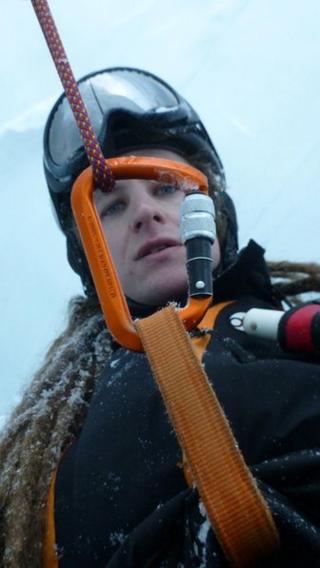 A young Belfast man is giving up his job in Northern Ireland to work in a French ski resort, even though he was almost killed there earlier this year.
Matt Allum fell at high speed into a 60 ft crevasse in the French Alps, near Chamonix in February.
The incident was caught on film by one his friends who had a camera attached to his skiing helmet.
With the help of a number of other skiers nearby, his friends used a rope to pull the 28-year-old Belfast man out of the crevasse.
As soon as Mr Allum saw the rope and realised he was going to be rescued, he celebrated by taking a selfie with his camera.
'Scared'
He said: "There was very little I could do but just let them drag me out, so I tried to take as many pictures as I could to remember the moment.
"I took a selfie to see if I really looked as scared as I felt. I think I wore it well."
Mr Allum, a former pupil at Methodist College in Belfast, was skiing off the marked runs on a glacier, at the Grand Envers du Plan Vallee Blanche, when he fell.
He said he owes his survival to two things - good fortune and good friends.
"I got very lucky the way I landed in that crevasse. I didn't break anything, I didn't get buried," he said.
The incident was featured on an episode of the BBC One series Close Calls: On Camera, made by Topical Television.
In spite of his near-death experience, Mr Allum is moving to live in Chamonix next month, and giving up his job at a catering firm in Lisburn, County Antrim.
"I've been working here for 10 years. I've loved it. It's a great job. The problem is we don't have mountains in Belfast and that's what I need," he said.
"I love Northern Ireland. We're just missing the Alps."