NI Executive: Budget talks mood 'more positive'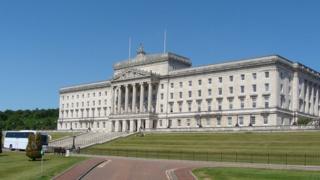 The Northern Ireland Executive's latest talks on its budget crisis were more positive than previous meetings, a source has told the BBC.
Stormont faces a shortfall of more than £200m in its budget for the current financial year, which ends in April.
Executive ministers have been unable to resolve the deadlock on welfare reform.
Ministers agreed that Finance Minister Simon Hamilton will bring forward a paper on the October monitoring round at their regular meeting on Thursday.
This is one of Stormont's regular budget reallocation processes, and there have been indications that some departments face cuts of 6%.
BBC News NI correspondent Mark Devenport said the move was a small step forward in the budgetary stand-off at Stormont.
Previously, Sinn Féin ministers have not allowed the finance department paper to be put officially on the executive agenda.
Instead, the budgetary shortfall has been discussed informally at the end of meetings.
While the earlier talks that began at about 10:00 BST were initially intended to be an 'away day' for ministers, the meeting lasted only several hours.
Proceedings were adjourned for a time on Wednesday morning while some ministers met union representatives to discuss the impending closure of JTI Gallaher's factory in Ballymena.
Wednesday's meeting was called by Alliance ministers David Ford and Stephen Farry.
'Huge dilemma'
Speaking ahead of the talks, Mr Ford said what was needed was a proper discussion rather than "a quick sally round the issues".
"If people aren't prepared to devote the time that's needed, it's deeply frustrating and disappointing and it's time they grew up," the justice minister said.
Dr Farry came back for the meeting from California, where, he said, he was holding a series of important meetings with companies.
The employment and learning minister said the meeting had presented him with a "huge dilemma".
He is due to fly back to the United States on Thursday, and he said people who complained about the cost of his flights should consider that the financial crisis was costing Northern Ireland £1m a day.
Earlier this month, the head of the Northern Ireland Civil Service formally warned the Treasury that it was on track to go into the red by the end of this financial year.
Northern Ireland's First Minister Peter Robinson recently said the arrangements for devolved government at Stormont were "no longer fit for purpose".
On Tuesday, Prime Minister David Cameron said he did not want the Northern Ireland Executive to collapse.
He said what was in place was "far better than any of the alternatives".