Theresa Villiers: Ivan Lewis calls for code investigation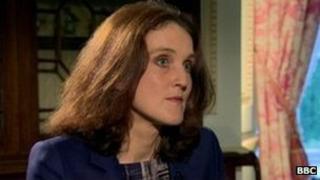 Labour has called for an investigation into allegations that the NI Secretary of State Theresa Villiers broke the ministerial code.
The allegations surround claims about Ms Villiers when she was transport minister.
It is claimed she had a private lunch with a lobbyist who was campaigning for a £400m railway depot in Hertfordshire.
A spokesman for Ms Villiers said the meeting "had no impact on consideration of the planning application."
Planning permission for the railway project was initially declined but the scheme is being reconsidered.
Ivan Lewis, the shadow secretary of state for Northern Ireland said the allegations should be investigated by Sir Jeremy Heywood, the cabinet secretary.
Public and transparent
The Labour MP also said the findings of the investigations should be made public.
Mr Lewis added: "The allegations also involve representations made by a Conservative councillor in the PM's constituency.
"Therefore, in the interest of transparency, the PM should refer the allegations to the independent advisor on the ministerial code."
It is not the first time the issue has been raised. Earlier this year the Conservative MP for St Albans, Anne Main, wrote to Sir Jeremy asking him to investigate the claims.
In her letter, Ms Main, who is a party colleague of Ms Villiers, wrote: "I am saddened that I have to bring this matter to your attention, however, my constituents deserve to have these decisions made in a public and transparent fashion, not behind closed doors "
A spokesman for the secretary of state said that nothing from the conversation with the lobbyist was passed on to the minister with responsibility for the decision nor to any other ministerial colleagues.
"The meeting therefore had no impact on consideration of the Radlett planning application," said the spokesman.
"Theresa Villiers has at no stage been the minister with responsibility for taking the decision on whether planning permission would be granted for a rail freight terminal at Radlett."