Sammy Wilson in economics spat with former pupil Steven Agnew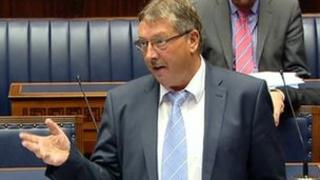 The finance minister thought he would teach an MLA a lesson when he was asked what he thought was a stupid question about pension reform.
Sammy Wilson questioned Steven Agnew's "grasp of economics."
He added: "If the member went and did a wee bit of economics first before standing up in this house, he would not ask such stupid questions."
The thing is the Green party leader once did "a wee bit of economics" at Grosvenor High School.
His teacher was one Sammy Wilson.
"He wasn't my main economics teacher," said the North Down MLA. "But I did a revision course with him and what's more, I got an A in my A levels."
The one-time economics teacher turned DUP finance minister says he has no recollection of Mr Agnew being in one of his classes.
"I did take a revision class but I don't recall Steven Agnew being in it," said Mr Wilson.
"You must remember I taught hundreds of pupils. If he did take economics he needs to come back and take another course because he's forgotten all he learned."