Nelson McCausland to face exclusion motion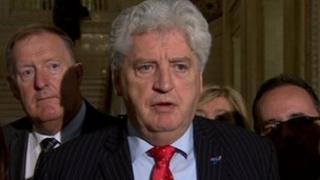 The SDLP and Sinn Fein are seeking to exclude the social development minister from office for three months for allegedly breaching the ministerial code.
The parties said Nelson McCausland failed to condemn loyalist bands who breached Parades Commission rulings in north Belfast last month.
The SDLP said Mr McCausland "must be held accountable".
First Minister Peter Robinson has said there is no case to answer.
Last week, Mr McDonnell said his party would be proposing a motion of censure over what the SDLP regarded as Mr McCausland's failure to condemn breaches of lawful determinations relating to recent parades.
He was referring to a parade on 12 July which passed outside St Patrick's Church on Donegall Street in north Belfast and breaches of Parades Commission rulings during the Royal Black Institution parade in the same area on 25 August.
In the subsequent riots last month, seven police officers were injured.
On Monday, SDLP leader Alasdair McDonnell said Mr McCausland had "broken his promise" and "must be held accountable".
'Political leadership'
"Through his failure to condemn sectarian behaviour on 12 July and his failure to condemn illegal breaches of Parades Commission determinations on 25 August, (he) has clearly and publicly breached his ministerial pledge of office and the ministerial code of conduct, by which he promises to uphold the rule of law and promote good community relations," he said.
Sinn Fein's Raymond McCartney said "rather than stand on the side of the law and the Parades Commission" Mr McCausland had "repeatedly failed to condemn the sectarian behaviour of the bands and their supporters".
He added: "His behaviour as well as being an abdication of political leadership was a breach of his ministerial code."