Sinn Fein's Bairbre de Brun stepping down as MEP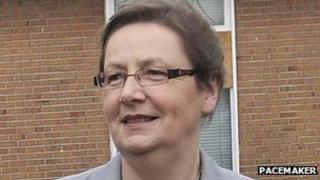 Sinn Fein MEP Bairbre de Brun has announced she is stepping down from the European Parliament for "personal reasons".
Ms de Brun, who topped the poll in the 2009 European elections in Northern Ireland, had been off on sick leave for a number of weeks.
Party leader Gerry Adams said he had worked closely with Ms de Brun for more than 30 years in Sinn Fein. She has served "diligently and effectively", he said.
Sinn Fein now have to select a new MEP.
Ms de Brun, who has been active in republican politics for the last 30 years, will remain a senior figure within Sinn Fein, the party said.
In a statement, Mr Adams said: "I thank Bairbre for her work over many years and for her friendship and look forward to working with her in the future."
In 2004, she was selected as the party's European candidate. She won the seat vacated by the SDLP's John Hume after he retired.
In March, it emerged that she was on sick leave but Sinn Fein said her offices in Northern Ireland and Brussels remained fully operational.