Belfast man jailed for two years for child porn offences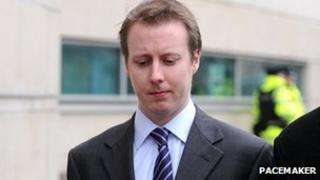 A Belfast man has been jailed for two years after he agreed to spend a further three years on probation for downloading and distributing images of child sex abuse.
Barry James Shaw, 31, from Balfour Avenue pleaded guilty to 28 charges.
Among the images were more than 900 category four and 96 category five pictures, considered the most extreme.
A previous hearing heard that it was the largest collection of category five images brought before any UK court.
Jailing Shaw at Belfast Crown Court, Judge Patrick Lynch QC also ordered him to sign the sex offenders register for the rest of his life and barred him from ever working with children.
He told Shaw: "You may have felt at the time, in your room downloading these materials that you caused no hurt to anyone but for each of these appalling images there are victims and if it were not for people like yourself there would be no demand for them and the abuse that is inherent in the production of these materials would not occur."
Shaw pleaded guilty to 24 charges of making indecent images of children and a further four of distributing indecent images on dates between February 2006 and August 2009.
The charges covered a total of 4,630 images, including 28 movie files and almost 1,000 images at the most extreme categories of four and five which showed sexual acts between adults and children as well as other sadistic images.
The photos and movie files were uncovered on two computers when police raided the home of Shaw and his parents.
When examined by the PSNI E-crime unit, it was also discovered that he had distributed over 200 images to others.