Employers 'discriminating against migrant workers'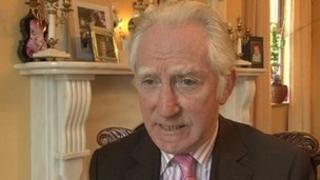 The Honorary Consul for Poland in Northern Ireland has said some employers are actively discriminating against migrant workers.
There are thought to be around 30,000 Polish people living in Northern Ireland.
Jerome Mullen said some companies believed they could take advantage of workers.
He said this was because they believed they did not fully know their rights.
"I've had to deal with quite a number of cases in the past 12 months of people who have lost their jobs unfairly and where tribunal cases will be taking place," he said.
"There is a perception with some employers that they can do what they like with migrant workers because they believe that they don't understand or know their rights."
Jonathan Guest, managing director at MJM Marine, a company which specialises in fitting-out cruise ships, said "60% of our workforce would be Polish".
"We are massively dependent on our Polish people," he said.
"They have the right work ethic and work attitude to take our business to where it needs to go."