Thousands mark Armistice Day across NI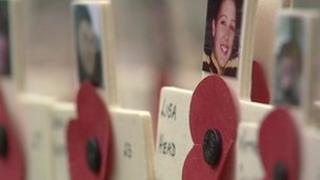 Thousands of people across Northern Ireland have been marking Armistice Day with a two minute silence.
In one of the largest gatherings in years, hundreds of people were at Belfast's garden of remembrance at City Hall.
Families came to remember soldiers who have died at war.
They also wanted to pay their respects to those currently serving in conflict zones like Afghanistan.
Elsewhere, people have been remembering those soldiers in a different way.
Soldiers from Northern Ireland fighting in Helmand are currently the focus of a new exhibition displaying soldier's thoughts at the Imperial War Museum North in Manchester.
Derek Eland is a war artist who gathered their feelings on postcards at frontline bases.
"From very early on, when I was working with the Royal Irish Rangers, I quickly realised that if I got them to write their accounts on their postcards quickly, there would be an immediacy that you wouldn't get in a more reflective account," he said.
The museum's director, Jim Forrester, said: "What is exceptional about this small exhibition is that we have a pen and paper record of people's thoughts and feelings at the frontline in quite recent times."