The dogs sharing Aras an Uachtarain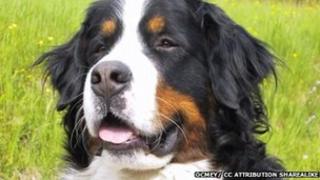 Michael D Higgins and his wife Sabina will not be joined by their four adult children in their new home in Dublin's Phoenix Park, but the couple are not the only ones moving in.
Ireland's new president is planning to give a home to two Bernese mountain pups in Aras an Uachtarain.
Valerie Hughes is from the Bernese Mountain Dog Club Society of Ireland.
"Michael D is firstly taking a re-homed dog named Bruno and is hoping to have him moved in for Christmas," she said.
"He has had Bernese mountain dogs for over 19 years and is very familiar with the breed so we are just delighted that the new president is going to stay with the breed that he knows and loves."
Bruno was given up for adoption by a young couple from Northern Ireland who had to emigrate to South Africa in search of work.
"They were absolutely devastated and heartbroken when they handed him into the Bernese Mountain Dog Club," Ms Hughes said.
"But by doing so they ensured he would find a good home and they might see his picture with the President at some stage."
Bernese mountain dogs can grow to 70cm and can weigh up to 120 lbs and a puppy of the same breed will be joining Bruno in the New Year.
According to Ms Hughes, the dog will not prove too much of an inconvenience for its owners.
"I will have house-trained the puppy beforehand so there won't be any accidents in the Aras," she said.