Irish President Mary McAleese performs her final engagement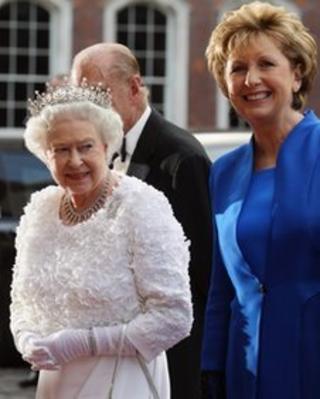 Ireland's out-going President Mary McAleese has described the out workings of Northern Ireland's peace process as "one of the greatest joys" of her life.
Speaking at her final official engagement in Dublin, Mrs McAleese said the desire for reconciliation had got lost in the conflict.
"I just want to say to all my friends and family in Northern Ireland, it's been one of the greatest joys of my life these 14 years to see the huge release into civic society and the body politic in Northern Ireland of so much what I would call, repressed friendship.
"And to see it now, see the the out workings of the Good Friday Agreement, to see peace on the streets, its a joy.
"I know that it's a work in progress and just to wish people the best as they bring it to a work well concluded."
After 14 years in residence Mrs McAleese and her husband Martin will move out of her official residence in Phoenix Park this afternoon.
Michael D Higgins will be formally inaugurated as the ninth president of Ireland at a ceremony to be held at Dublin Castle tomorrow morning.
When asked what advice she had for the president-elect Mrs McAleese said, "to just enjoy being president".
"I woke up every morning just full of joy, I loved every day of the job, I was energised by it and the people that I met because that is the source of your energy.
"He's a very lucky person as I was."