Cameron commends NI Remembrance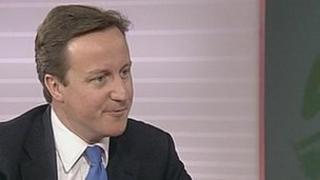 Prime Minister David Cameron has told the House of Commons it is appropriate people in Northern Ireland mark Remembrance Day.
Responding to a question from DUP MP Gregory Campbell, Mr Cameron said that many people from both parts of Ireland have served in the armed forces.
The holding of a minute's silence was a tribute to them, he said.
"I think it's particularly appreciated in NI where so many people have served so bravely," he said.
"Whenever I visit and see the Royal Irish Regiment, you are always struck by how many people from both sides of the border have served so bravely in our armed forces."