Michael Collins letter on 'stupid error' up for auction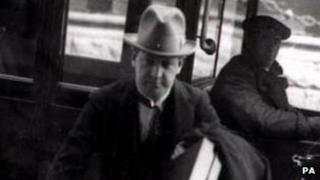 A letter from an Irish finance minister apologising for "a stupid error" made by an official is up for auction next month.
It could be a story from recent days.
But 91 years before Irish finance minister Michael Noonan blamed "human error" for miscalculating the national debt by 3.6bn euros, another Michael was saying sorry.
IRA leader Michael Collins' letter apologised for an error saying "work is awfully heavy at present."
Michael Collins was a soldier and a politician who led the IRA's military campaign against Britain in the war of independence. He signed the Anglo-Irish Treaty of December 1921 and, in so doing, claimed that he had signed his own death warrant.
The treaty brought the Irish Free State into existence and led to the partition of Ireland with the six predominantly unionist counties remaining outside the new state.
Collins later served as finance minister in the provisional government.
His earlier prediction came true when he was shot dead by anti-Treaty republicans in August 1922.
The letter is among correspondence from Collins dating back to 1920 which is to be sold by rare books auctioneers Mealy's in Dublin in December.
He signed in Irish, apologised about his error and acknowledged that his department was under pressure.
"I am sorry that one of my assistants made such a stupid error," he wrote.
His apology was in relation to a receipt to Mrs Margaret Drohan, a subscriber to the National Loan - a bond scheme set up by the first Irish government in 1919 to finance the provisional government moves to be free from British rule.
The letter is one in a series due to go under the hammer at auction on 13 December in the D4 Berkeley Hotel, Ballsbridge.
The documents are expected to fetch between 14,000 and 18,000 euros.
Last year, a collection of letters from Collins to his sister Hannah were sold for about 100,000 euros in Dublin.