Billy Hutchinson new PUP leader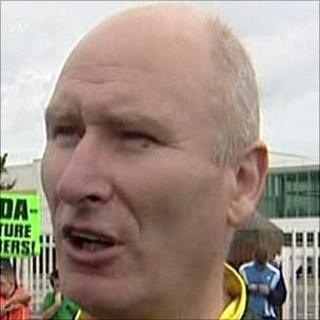 Billy Hutchinson has been elected as the new leader of the Progressive Unionist Party.
He is the fourth leader the loyalist party has had in the last 18 months.
Its previous leader, Brian Ervine, announced in June he would resign following his failure to win a seat in the assembly elections.
Accounts published by the Electoral Commission in May showed that the PUP ran a deficit of more than £57,000 last year.
Mr Hutchinson was elected to Belfast City Council in 1997 and to the Northern Ireland Assembly in 1998.
He lost his assembly seat in 2003 and his council seat in 2005.
A former member of the Ulster Volunteer Force, he was sentenced to life in prison for the killing of two Catholic men on the Falls Road in west Belfast in 1974.
In 1997, Mr Hutchinson was nominated by the UVF as their point of contact with John de Chastelain of the Independent International Commission on Decommissioning.
On Monday, he said: "What we need is to ensure that everyone in this society moves forward.
"It's in the interest of everyone in civic society to help me move the PUP forward.
"I feel that the PUP has a valuable role to play in this society. I also feel that they will play that role."
The other two leaders the PUP has had in the last 18 months are Dr John Kyle and Dawn Purvis, who resigned in protest over the UVF murder of Belfast man Bobby Moffett.