Assembly decision due on child abuse inquiry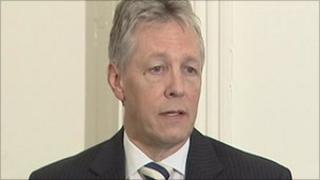 The executive is meeting to decide on the form of an inquiry into complaints of abuse at children's homes and other institutions in Northern Ireland.
The inquiry is expected to deal with allegations regarding religious and state-run institutions stretching back to the 1940s.
The executive has been considering what to do about historic allegations of child abuse since spring of last year.
Former Health Minister Michael McGimpsey began examining options then.
Over the summer Stormont's two junior ministers Martina Anderson and Jonathan Bell have been liaising with victims about exactly what kind of process might address their needs.
BBC NI political editor Mark Deveport said: "The details remain under wraps, but the best guess is ministers will approve a phased approach starting with a story-telling or evidence gathering process, and moving into a full blown legal inquiry later."
Amnesty International has said anything less than a statutory inquiry would not work.
Its spokesperson Patrick Corrigan said: "That has been the experience of other jurisdictions.
"Victims and campaigners in the Republic of Ireland for instance, have told me as recently as this week that if the executive here goes for a non-statutory inquiry, that really, it is destined to fail and they should save their time and save the victims' grief."
New legislation
Current legislation for a statutory investigation limits the time period to between 1973 and 1989.
First Minister Peter Robinson said if it was widened with new legislation, it could take up to two years.
Mr Robinson told the assembly that if it had to bring forward legislation "it could be 18 months to two years before we would be proceeding".
He said there was a possibility of combining some statutory and non-statutory elements.
In 2009, Stormont assembly members backed the holding of an inquiry into the extent of child abuse in Catholic church and state-run institutions in Northern Ireland.
It followed the damning Ryan Report in the Irish Republic which uncovered decades of endemic abuse in some religious institutions.
The Stormont executive announced in December it would hold the inquiry and a task force is considering what its nature should be.