NI abuse inquiry 'could take two years to establish'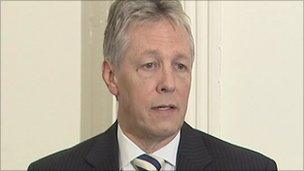 An inquiry into institutional child abuse in Northern Ireland could take up to two years to establish, it has emerged.
Current legislation for a statutory investigation limits the time period to between 1973 and 1989.
First Minister Peter Robinson said if it was widened with new legislation, it could take up to two years.
John McCourt, of the Survivors and Victims of Institutional Abuse group, said further talks were needed.
Mr Robinson told the assembly that if it had to bring forward legislation "it could be 18 months to two years before we would be proceeding".
He said there was a possibility of combining some statutory and non-statutory elements.
"If we take the statutory route, the only statutory provision available for us at the present time would limit the period of an inquiry to between 1973 and 1989 and I do not think that is going to assist victims," he added.
Mr McCourt said he felt that getting the inquiry right was "more important than getting it now".
He said a large number of those people affected had been in instititutions before 1973 and it was important that the inquiry was statutory.
"We have been involved in a range of discussions and spoken with scores of people who spent quite a lot of time in institutions and with all of them the one thing they are looking for is justice, the other is acknowledgement and the other is their truth being heard," he said.
"But that is not going to happen quickly and it is not going to happen under a non-statutory inquiry.
"A statutory inquiry will bring with it the powers to compel the evidence, to compel records - anything out there that relates to the abuse and the system of abuse that went on within institutions.
"We need to be able to bring people forward that have the evidence and documentation and that won't happen if it is a non-statutory inquiry."
In 2009, Stormont assembly members backed the holding of an inquiry into the extent of child abuse in Catholic church and state-run institutions in Northern Ireland.
It followed the damning Ryan Report in the Irish Republic which uncovered decades of endemic abuse in some religious institutions.
The Stormont executive announced in December it would hold the inquiry and a taskforce is considering what its nature should be.