Margaret Ritchie: No regrets over SDLP leadership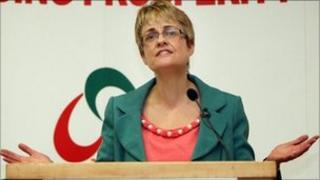 Margaret Ritchie has said she has no regrets about becoming Social Democratic and Labour Party leader despite facing criticism from the party.
Failed SDLP candidate for Downpatrick, Peter Fitzpatrick, called for her to step down following the election.
Ms Ritchie told the BBC: "I have signalled my intentions to lead the party and take it forward."
Ms Ritchie replaced Mark Durkan as leader in 2010.
On Wednesday she said Mr Fitzpatrick had made the comments about her in haste.
"I think he was speaking in the heat of the moment after losing and in reality I think he may have spoken too soon," she said.
"I attended a party meeting earlier this week and made my intention to continue to lead very clear and no-one dissented."
Ms Ritchie said she was happy with the vote management in South Down but agreed the party still had work to do.
"The results were disappointing - but I want to pay tribute to those who succeeded but also express my sadness at those we lost in the assembly."
In the interview Ms Ritchie also brushed off criticism that Sinn Fein were now seen as the most effective nationalist party by the electorate.
She said: "I certainly don't think that is the case, we are the largest party in Derry and in South Down which is a testament to the work the party is doing.
"Like all parties we face challenges and we are taking those on and moving forward."