Minister approves £36k bonus for Invest NI boss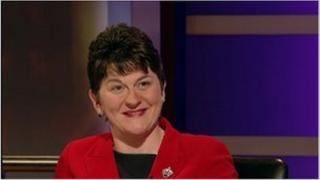 The head of Invest Northern Ireland has been granted a performance bonus of £36,000.
Invest NI chief executive Alastair Hamilton has said he will not accept the bonus until a review of senior civil servants' pay is completed.
The details emerged in an article in the Belfast Telegraph newspaper on Tuesday.
The bonus was agreed by former enterprise minister Arlene Foster on her final day in office.
A DETI spokesperson said: "This matter had been under consideration for some time. The minister confirmed her decision on Thursday 5 May."
'Astounded'
The paper reported that Mr Hamilton is paid an annual salary of £160,000 and the bonus represents 83% of what he is entitled to.
TUV Leader Jim Allister MLA said he was "astounded" that Mr Hamilton was given the bonus.
"In these times of austerity and when the pay of low paid public servants is being frozen, the chief executive of Invest NI, who already earns a huge salary, has been gifted a £36,000 bonus despite unemployment continuing to rise under his watch.
"Ms Foster needs to explain why she made the enrichment of an already highly paid official, who previously was a hand-picked DUP special adviser, her last act in office and why the approval was concealed from the electorate till the election was over.
"The extent of Mr Hamilton's pay as a DUP special adviser(2007-08) has never been disclosed but, rather, has been carefully concealed from the public. It is time that too was revealed."