Anger at Sinn Fein Enniskillen Cenotaph election poster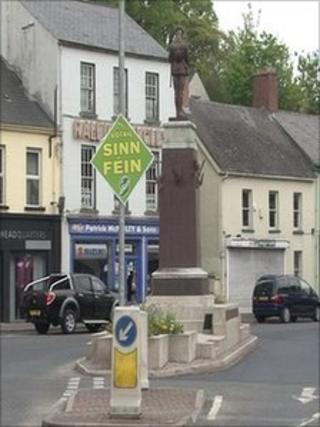 A Sinn Fein election poster has been erected at the Cenotaph in Enniskillen at the site of the IRA Remembrance Day bombing in 1987.
The move has angered a relative of one of the 11 people who were killed.
Sinn Fein said the poster was an "oversight" and had now been taken down.
Complaints were made to Sinn Fein in previous elections about posters at the site. It said last year such insensitivity would not be shown again.
In a statement on Wednesday a Sinn Fein spokesperson said the party had made its position clear and the poster in question was an oversight.
The statement added:"There will be no further Sinn Fein posters erected in that area."
Earlier this month, Sinn Fein moved an event to celebrate the 30th anniversary of the election of Bobby Sands planned for the Clinton Centre, which replaced a building destroyed in the bomb.