Margaret Ritchie criticises Loughinisland report delay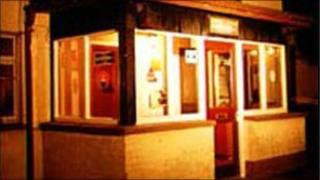 SDLP leader Margaret Ritchie has met with Police Ombudsman Al Hutchinson over his report into the Loughinisland massacre.
She told him the delays surrounding the report had undermined confidence in his office.
Mr Hutchinson's report into the police investigation of the 1994 UVF atrocity is due in May.
Six men were shot dead in the gun attack on the Heights Bar in the County Down village.
One of the victims, Barney Green, 87, was one of the oldest people to be murdered during the Troubles.
Families of the victims had previously been told Mr Hutchinson's report would be published in March.
Ms Ritchie said she had been told by the ombudsman that the report would now be published on the week beginning 9 May.
"He also confirmed that the latest delay in its publication was not because of new information received but about due diligence issues," she said.
"I told him that the repeated delays left him exposed to the perception that he's being strung along by those who did not want to see the report published and were deliberately drip-feeding him information.
"I made it clear to him that there are issues of confidence around his office which were only exacerbated by any further delays or failure to report on the week of 9 May."