Former Visteon workers demonstrate in London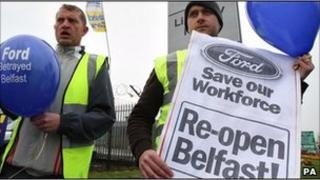 Former workers at the Visteon car plant in Belfast have attended a demonstration in London later as MPs meet with senior management from Ford.
The group also planned to hand in a petition to Pensions Minister Iain Duncan Smyth.
In April 2009, Visteon's plant in west Belfast closed with the loss of 200 jobs.
Workers being made redundant staged a month-long sit-in to secure improved redundancy terms.
Union members from Northern Ireland joined with their colleagues from Enfield, Basildon and Swansea in a protest to protect their pensions.
Nearly 600 jobs were lost at Visteon's three plants in the UK as a whole, with staff being given less than an hour's notice.
The US firm took over the former Ford plant in 2000.
The group will also meet with Stephen Metcalfe, South Basildon and East Thurrock MP, who has been lobbying on their behalf and with a number of Northern Ireland MPs.