Sports decision raises questions about economic drive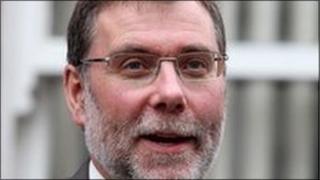 We're masters of the mediocre in Northern Ireland. If there's one thing we really excel at, it's being average.
So say some critics of our less than stellar economic performance and there's a school of thought that the effects run wider than that.
It's well known that our private sector here lags well behind other regions and our economy is overly reliant upon the public sector.
The causes are debatable, but "BMW syndrome" is a theory which offers an interesting explanation.
Essentially the suggestion is that people are just too comfortable - like Goldilocks' preferred porridge, neither too hot nor too cold, but just right - the pinnacle of ambition is getting a decent car in the driveway and anything else beyond that is just too much effort.
Perhaps that's why Nelson McCausland, the Sports Minister has decided to shelve plans to build a series of elite sports facilities across Northern Ireland that might have helped encourage a new generation of Olympians.
Instead the budget will be spent on community sport and upgrading facilities for soccer, GAA and rugby.
'General vagueness'
In an era of constrained budgets it appears that going for gold isn't a priority. Yet, for some reason the minister was initially shy about admitting his true priorities. He said the facilities were dropped because their business cases didn't pass muster at the government body Sport NI.
This was completely wrong and he subsequently corrected the record when his error was pointed out to him by BBC reporter Mark Sidebottom (Sport NI had approved the business plans and made building the facilities their priority).
We investigate the thinking behind this decision in this week's Politics Show. But the manner of the announcement is symptomatic of a general vagueness around the Executive's budget and spending plans for the next four years.
We were told the budget included some radical "new thinking" on means to raise revenue.
One of these innovative ideas was a raid on the reserves of Belfast Harbour Commissioners.
Again, the details were vague, but it was suggested that the Department for Regional Development could take about £35m out of the Commissioners' £200m reserve pot.
But it's not that simple.
Belfast Harbour is a trust port and the legislation which created it is the same as all the trust ports in the United Kingdom.
Wishful thinking?
If the DRD wants to get its mitts on the money it will need to change that legislation - and that's the preserve of Westminster. The other ports may also have something to say about it.
Bang goes that idea.
But the great thinking doesn't end there. How about those radical plans to raise £400m? How? By selling off Executive assets. Hardly radical, but it's a tried and tested method - so surely that should work.
But there's a snag. For assets, read property. And Northern Ireland is currently in the middle of its worst property slump in history.
About £3.3bn worth of property here is currently owned by the Republic's "bad bank" NAMA. Property experts say there's no guarantee the Executive could sell the assets, never mind raise as much as £400m.
There's also the plastic bag tax. It was never intended to raise much money, but even the small amount forecast, around £4m a year, will not kick-in for some time and the initial figures are already being revised.
With an assembly election due in May, could it be that the politicians are indulging in a bit of wishful thinking on the finances? We'll be discussing that with our guests on Sunday's programme as we try to get some clarity on the real impact of the real figures.
Jim
PS - If you're reading this then you're interested in politics. But there are many who aren't.
Like the woman I met last week who, attending an event at Stormont, enquired of the person she was talking to if he were Peter Robinson, "as it was the only politician's name I could think of".
The man replied no, pointed Peter Robinson out, and said his name was Ian Paisley.
Aware enough to know that this was not the man she had seen bellowing to crowds on television she said: "Gosh, what's it like having the same name as that madman politician?" to which came the obvious reply "you're talking about my father".