School goes to court to get £15m to rebuild on its site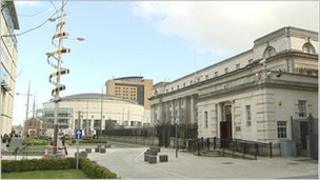 A County Tyrone grammar school has won a legal bid to challenge a decision by the education minister not to pay for a new school.
Loreto Grammar in Omagh was told in 2004 that it was likely to get a new £15m building on its existing site.
It's understood the Department of Education now favours a campus on the former Lisanelly army base.
The school is asking the High court to rule on the issue in a judicial review.
In July, Loreto was told its plans for a new school did not comply with the department's requirements.
Loreto Grammar was promised £14.6m investment through a public private partnership for a new build on its existing site in 2004 by the then direct-rule minister Barry Gardiner, as part of a major expansion plan for schools across Northern Ireland.
Under the initiative, commercial companies would pay for schools to be built and take annual payments as a type of mortgage.
Since then, the minister Caitriona Ruane said she favours a shared education campus on the site of the old Lisanelly military barracks in the town.
Lawyers for the grammar school are now seeking a ruling from the court that the department was wrong to refuse the funding.
The minister has stressed she is working under serious budgetary pressures and is believed to be keen for all options to be fully assessed.
Those include the possibility of co-operation on the Lisanelly site, where schools could share resources.
Following an earlier hearing, the judge, Mr Justice Treacy, decided to grant leave to seek a judicial review.
He did not give any reasons for his decision, but said the case merited further exploration.
A full hearing has now been scheduled for November.
In a statement issued through its solicitors, Loreto's Board of Governors welcomed the decision.
"Today is a stepping stone to reaching a substantive hearing of the matter and the Board of Governors now look forward to 9 November when the case will be heard."