Is Stormont a cold house for women?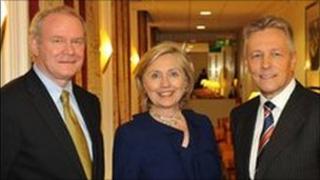 With months to go until the next assembly election, parties are busily selecting their candidates - but how many will be women?
Although women make up the majority of the population, they make up just 14 out of the 108 MLAs.
That is three fewer than were elected to Stormont in 2007 - so what is going on?
It has been twelve years since Hillary Clinton came to Belfast to promote her Vital Voices: Women in Democracy initiative.
That was in 1998 and Mrs Clinton wanted to encourage women into leadership roles.
Since then Mrs Clinton has gone from First Lady to Senator to US Secretary of State.
But women in Northern Ireland have not fared as well.
Vital Voices, along with DemocraShe, is designed to encourage women into politics but they remain woefully under-represented here.
'Appalling'
There has been some success in promoting women in councils - with figures up from 14 to 21%.
But the assembly has just 15 females out of 108 members, and the situation is getting worse, according Bronagh Hinds, a senior associate with DemocraShe.
"When we look to the assembly it's really appalling in terms of the number of women.
"In fact it's pretty disgraceful that in this current assembly we have had eleven co-options and all of them have been men, including co-options into seats that were originally held by women," she said.
Indeed, under the co-option system which allows parties to replace vacant posts by appointment, three outgoing MLAs - Iris Robinson from the DUP, Carmel Hanna from the SDLP and Naomi Long from Alliance - were all succeeded by men.
Ms Long stepped down after she won the East Belfast seat in the Westminster election in May.
She staunchly defends her party's decision to replace her with a man, Chris Lyttle.
"Absolutely there were women on the ticket who were capable, but on the night the person who came through and actually won the selection fair and square was a man and I think that's exactly how it should be.
"I don't have a problem with that. I think it's important people are selected on merit.
"I wasn't put in my post because I was a woman.
"I was put in my post because I was judged to be the person most capable of representing the people of East Belfast and that's the basis on which my replacement was selected," she said.
'Barriers'
Ms Hinds counters that she understands Naomi Long's position but insists it's not a case of promoting women who lack merit.
She said it is about ensuring women of merit can get through the barriers and into a position where they can be selected.
Ms Hinds points out that legislation allows parties here to take "positive steps" to ensure women can get on the ticket so voters have a choice.
But parties have been loathe to adopt such steps, despite the fact that quotas have brought equality of representation to the Welsh assembly.
The threat of financial penalties to parties who do not promote women has also reversed trends dramatically in France.
The SDLP leader Margaret Ritchie insists her party is committed to promoting women.
Like Sinn Fein, her party does use quotas to ensure women are elected to its internal senior positions.
But she is not in favour of applying that system to the assembly or council selection process.
Ms Ritchie said her party has widely advertised and has been encouraging candidates across all sections to apply for posts in councils and the assembly.
'Image problem'
Sinn Fein and the DUP both point out they already have women in senior positions in Europe and in the Executive although they too have an under-representation of women in politics.
The worst record however belongs to the Ulster Unionist Party which currently does not have a single female among its 18 MLAs.
Sandra Overend, who volunteers as the party's women's development officer, runs a training course aimed at encouraging females into elected politics.
She acknowledges the Ulster Unionists have an image problem as a party where women make the tea behind the scenes.
"That's an image we are trying to beat and the media are continually bringing that issue out - that we don't have enough women.
"But really, I think we have been turning things around in recent times and...at at the Westminster election we had four very strong (women) candidates even if I do say so myself," she said.
She pointed out that her training course is named after Dame Dhera Parker, the first and only woman to hold ministerial office in the old Stormont.
And Ms Overend has ambitions to win a seat in the assembly at the next election.