Liam Neeson and the Lyric celebrate fundraising success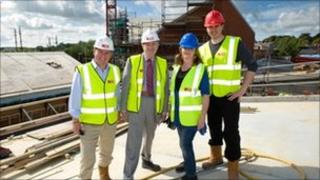 Belfast's Lyric theatre is celebrating a major success after reaching an £18.1m capital fundraising target.
The appeal began in 2003 when the Lyric launched plans to build a new theatre on its riverbank site.
The theatre's patron, Liam Neeson, has been closely involved, hosting fundraising dinners in Belfast, London and New York.
The new theatre, scheduled to open in Spring 2011, is in the final stages of construction.
Many other well known local faces have also championed the Lyric's cause, including Ciaran Hinds, Brian Kennedy, Dan Gordon, James Nesbitt, Seamus Heaney and Brian Friel.
Lasting legacy
Thanking those who donated, Liam Neeson said: "Everyone who has donated to the campaign should feel very proud in the knowledge that they have helped to build a wonderful and lasting legacy for the people of Northern Ireland, which will continue to celebrate the great richness and diversity of our cultural life for generations to come."
During the fundraising campaign - the largest ever undertaken by an arts organisation in Northern Ireland - the Lyric raised £6m in private donations and sponsorships and over £12m in public funding from the Department of Culture, Arts and Leisure, the Arts Council of Northern Ireland and Belfast City Council.
Professor Sir George Bain, Vice Chairman of the Lyric, said: "This is a tremendously positive story, especially given the challenges presented by the current economic climate, and will enable us to build the world class theatre which Belfast and Northern Ireland needs and deserves."