Blue Plaque unveiling honours BBC Northern Ireland broadcaster and theatre director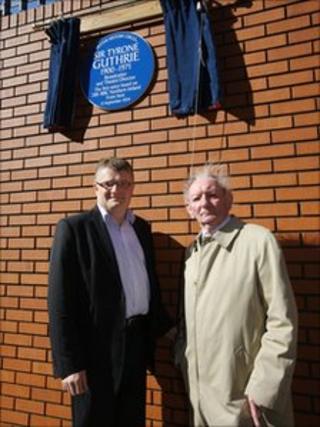 An Ulster History Circle Blue Plaque in honour of the broadcaster and theatre director, Sir Tyrone Guthrie, has been unveiled in Belfast.
The plaque was unveiled on Wednesday in a ceremony at BBC Broadcasting House.
Sir Tyrone started his career as a BBC announcer and producer in 1924.
BBC Northern Ireland Director Peter Johnston said the plaque would pay tribute to the creative genius of Sir Tyrone, who was "the first voice of the BBC in Northern Ireland" .
Sir Tyrone's output was extensive and prolific. As a pioneer of radio drama, he was regularly commissioned to provide talks and commentaries for the BBC, as well as providing the voice of Uncle Will during Children's Hour.
Among those present at the unveiling was local playwright and author, Brian Friel.
He has described Sir Tyrone Guthrie as a 'foster father' who initiated him into the "trembling mysteries and profound joys" of the theatre.