NI Water may be 'renationalised'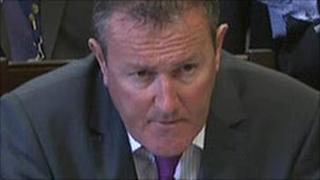 The Regional Development minister has told the assembly that the government-owned company model for Northern Ireland Water (NIW) should change.
Conor Murphy said the model was at odds with its public service remit.
He said changing NIW's status would require extensive legislation but that he wanted it firmly within the public service.
He said he wanted to ensure it was not set up to be privatised, or to introduce separate household charges.
Mr Murphy's announcement, in a statement to the assembly, drew the remark from Regional Development committee chairman, Fred Cobain, that the plan represented the "renationalisation" of NIW.
Finance Minister Sammy Wilson criticised Mr Murphy's proposals as "expensive and unrealistic".
"Bringing Northern Ireland Water back, and he has admitted this himself, into full public ownership would have revenue consequences, making the delivery of water services to Northern Ireland dearer," he said.
"Secondly, it would make it much more difficult to draw in some private investment for the huge capital infrastructure investment which is still required.
"That's somewhere in the region of £2,000m."
Mr Cobain accused the minister of going on a "solo run with enormous financial implications" while SDLP Regional Development spokesman, Conall McDevitt, claimed Mr Murphy had announced "a complete u-turn on his own policy".
Mr Murphy spoke of the governance failures at NIW and the controversy that has ensued.
He said he expected robust scrutiny from Stormont's Public Accounts Committee, and also spoke of a disciplinary process at NIW that was "taking longer than expected".
He said the NIW chief executive, Laurence McKenzie, was progressing matters in relation to disciplining staff.
Mr Murphy said he would be taking proposals to the executive on NIW.
He said immediate actions would include:
the publication of a report into procurement failings;
a departmental representative now attending NI Water Audit Committee hearings;
a new procurement manual circulated in NIW;
procurement compliance now a standing item at NIW board meetings.
The minister said that wide-ranging changes on NIW status would extend beyond the term of this assembly.
He said accountability should not be compromised by tensions between the company's freedom to deliver for customers and regulatory requirements.
Mr Murphy added that he would consider whether there should be a power for him as minister to direct the company to adopt policies and procedures which reflect "public sector disciplines".
He said he would also consider whether there should be a power for the minister to direct the regulator to investigate or take actions under these controls if necessary.
Audit office
The minister again defended his decision to sack four non-executive directors of NIW in March.
Earlier this month, the BBC learned that the NI Audit Office is to begin an investigation into the company.
The probe was requested by Stormont's Public Accounts Committee which is scrutinising the sackings of the four non-executive directors.
The directors were fired after an independent report revealed contracts were handed out without being tendered.
Questions have subsequently been raised over the independence of the report.
A UTV programme uncovered documents purporting to show that the permanent secretary at the Department for Regional Development (DRD), Paul Priestly, who commissioned the review, was given an early draft of its report and asked for changes to be made.
Mr Priestly is currently suspended by the DRD while an investigation into his conduct is carried out.
The civil service said his suspension was to facilitate the investigation and was not a disciplinary penalty.