Farms, roads and caravan park flooded in Fermanagh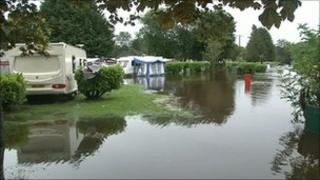 A number of properties have been flooded in County Fermanagh after the Colebrooke River burst its banks near Lisnaskea.
Farms and roads in the Ballindarragh area have been affected, and part of a caravan park is underwater.
Farmer Barry Read said the water rose rapidly on Tuesday morning after three inches of rain fell in 36 hours.
Mr Read's grain store is underwater and agricultural machinery has been damaged causing an estimated £30,000 of damage.
The farmer blamed debris at the mouth of the river which is blocking the flow of water
He said the Rivers Agency should do more to maintain it so that it can cope with extreme weather.
A Department of Agriculture and Rural Development spokesperson said: "The Colebrooke River was inspected yesterday during the heavy rainfall when water levels were rising and was found to be running freely and discharging into Upper Lough Erne.
"The Fermanagh area was subject to prolonged and heavy rainfall with approximately 70mm being recorded at St Angelo from 4 - 7 September.
"This has resulted in a one in 10 year flood event in the Colebrooke River."