MLA Basil McCrea pledges in UUP leadership bid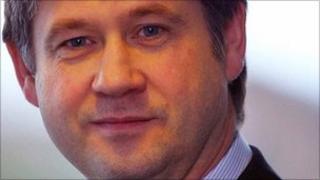 The Ulster Unionist MLA Basil McCrea has condemned what he called "the cabal" that runs his party and made five pledges in his bid to become party leader.
Formally launching his campaign, Mr McCrea promised radical change and to restore the Ulster Unionists to the top electoral position.
He pledged that, as leader, he would not take a ministerial post unless it was the NI first minister's job.
The selection of the new leader will be held on 22 September in Belfast.
Sir Reg Empey announced he is standing down following a disappointing election in May during which the party failed to win a single seat
Speaking in Belfast on Monday, Mr McCrea, MLA for Lagan Valley, also promised "robust party discipline" and no pacts with any other party.
At the launch, he said education would be his party's first choice in the next assembly term.
"The Ulster Unionist Party under my guidance will give a commitment to the people of Northern Ireland that we will take education as our first choice," Mr McCrea said.
"We will campaign at the next election that a vote for the UUP is a vote for education.
"A vote for the UUP is a vote for the future of your children and our economy."
Nominations for the position of UUP party leader closed in August.
The party said two members,Tom Elliott and Mr McCrea had submitted their names to take on the post.
Mr Elliott is an assembly member for Fermanagh South Tyrone.