Ballykelly: RAF flypast honours bomber crew 80 years on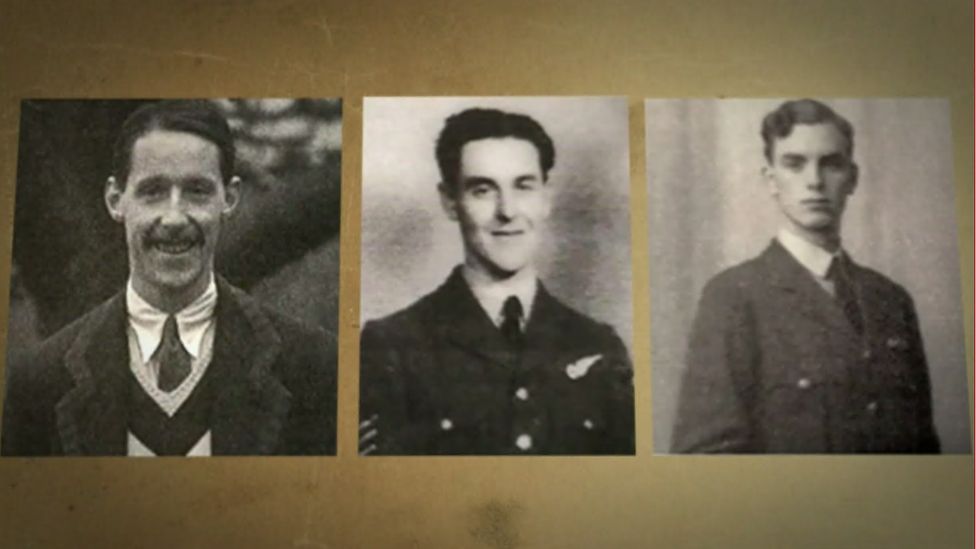 A wartime crash that claimed the lives of three airmen almost 80 years ago in County Londonderry was remembered on Sunday with a Royal Air Force flypast.
The Bristol Beaufort aircraft came down outside Ballykelly on 30 April 1942 killing the three men on board.
They were Flt Lt Richard Holdsworth, 31, Flt Sgt Stanley Chadwick and Flt Lt Duncan Livingstone, both 22.
A memorial stone was also unveiled on Sunday at the site of the crash.
"I am delighted that my father and the rest of the crew are now permanently remembered at this location where they so tragically died doing what they loved," Reverend Di Hervey, daughter of Flt Lt Holdsworth, said.
The exact location of the crash site had been a mystery for more than nine decades until it was uncovered by students from Londonderry's Foyle College in 2020.
In a joint statement, the pupils involved in the project said: "We want to ensure that the names and service of the crew of Beaufort AW271 are remembered and that their relatives know their valuable contribution to the war effort is not forgotten and that there is a permanent memorial, erected by a younger generation, where they can pay their respects."
Rev Hervey added: "Everyone involved in this project has made us all feel so welcome and I thank them all."
The pupil's excavation was commissioned by the Ministry of Defence and the Department for Communities (DfC) Historic Environment Division and was filmed for the BBC archaeology series Digging for Britain.
Flt Sgt Chadwick's son Ron said he can "hardly express what it means to me to see what these pupils have achieved".
"They have fundraised to pay for so much of this and their prayers and the way they have looked after us today has really moved me," he said.
The airmen, part of World War Two's Coastal Command, had been involved in a parachute training exercise on the night they died.
"Coastal Command was never in the spotlight like Fighter or Bomber Command," Sqdn Wing Cdr Steve McCleery said.
He added: "During World War Two, Coastal Command crews had the least chance within the RAF of surviving two tours of duty. It is therefore very right that we honour their service and the crew of Beaufort AW271."
Sunday's memorial service was also attended by senior representatives of the RAF, RAF Association and RAF cadets.