Covid-19: Compliance concern over north west infection rate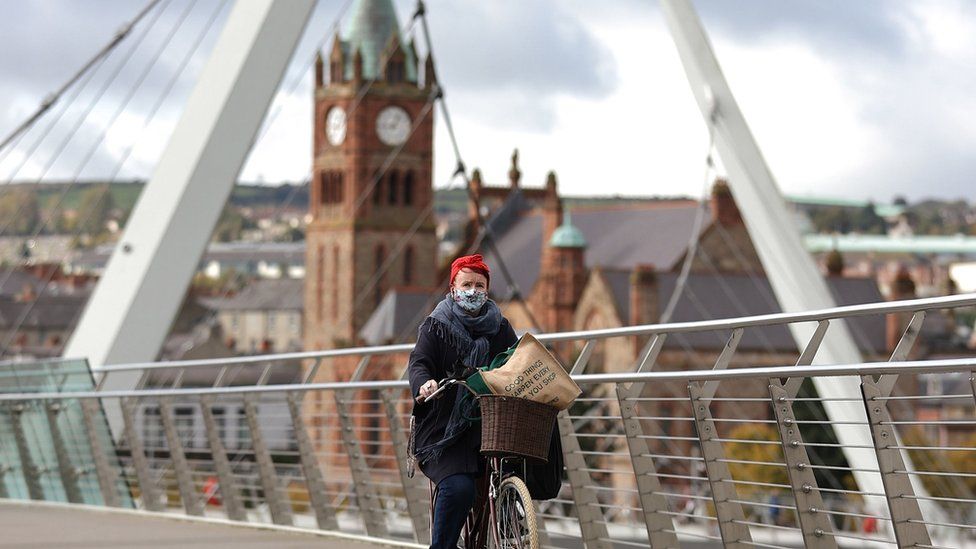 Young people in the north west have been urged to help drive down persistently high coronavirus infection rates by sticking to restrictions.
The infection rate in Derry and Strabane is currently among the highest in the UK.
County Donegal has the highest rate in the Republic of Ireland.
Dr Tom Black, of the British Medical Association in Northern Ireland, said the current level of community transmission in the area is a concern.
The infection rate in the north west is highest among those aged under 20 and among the under 40s, he said.
"It is obvious they are mixing, because that's how you transmit the virus, it is obvious that they could be doing better with masks and social distancing," he told BBC Radio Foyle.
He warned the border region is in "a bit of bother at the moment".
"We are not in position where we can go back to normal but we are moving towards it," he added.
Dr Gerry Waldron, of the Public Health Agency (PHA), said the current rate of infection is "down to people not heeding the advice, gathering in groups, and not keeping social distance."
"It is down to really asking people to be very careful despite the fact restrictions are being eased, you still have to maintain the same behaviour as you did beforehand to get those numbers down," he said.
There has been ongoing concern in areas like the north west, in which people live their lives on both side of the border but restrictions on public life are being eased at different times in each jurisdiction.
Mr Swann has called on the Irish government to elicit an "appropriate and proportionate" response to recent transmission data on both sides of the border.
The BBC understands that experts have recommended that the Indian variant be made a "variant of concern", which would put it at the same level as other strains such as the Kent variant.
'Doesn't respect borders'
The PHA said work has been ongoing with public health officials in the Republic of Ireland.
"The virus doesn't respect borders, of course it will move where people move, so we've been working with our counterparts to try and reduce transmission, what we're talking about now is enhanced efforts," the PHA's Stephen Bergin told BBC Radio Ulster's Good Morning Ulster.
"The virus moves by transmission, people moving, so anything we can do to reduce transmission is the key effort, so if that involves reducing travel that will help," he said.
Earlier this week health officials in the Republic of Ireland implemented a range of measures to curb the rate of infection in Donegal.
Three walk-in test centres are now operating in the county, in Milford, Carndonagh and Convoy.
Ireland's deputy chief medical officer, Dr Ronan Glynn said there had been a "number of incidents where people have pushed the boundaries".