Caoimhin Cassidy Crossan: Family's appeal over teen's car death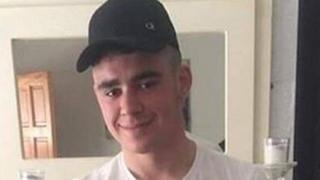 The family of an 18-year-old man whose body was found inside a burning car in Londonderry has appealed for witnesses to come forward.
Police believe Caoimhin Cassidy Crossan from Creggan was "most likely still alive when the blaze started".
His body was found in the car in Fairview Road on Saturday morning, after it had crashed into a lamp-post.
Charles Tierney, Caoimhin's great uncle, has called on witnesses to "help this poor family out".
"The body has still not been released. The delay is painful," he said.
"It's very important that they find out what happened exactly. I'm appealing for any young lad or girl that was in the car, or witnesses, to come forward.
"Go to the police, a local priest, an activist or me with information," Mr Tierney said.
'Devastated'
A post-mortem examination revealed Mr Cassidy had not been seriously injured in the crash and died after the car caught fire.
Police have said they want to speak to anyone who may have been with the teenager when he died.
They said the car, a Mazda 6, was stolen from a house in Oakfield Crescent earlier on Saturday.
"Although Caoimhin was in bother a lot he was quiet too," his great uncle told BBC Radio Foyle.
"People have been telling me how he was looking so well over the past couple of weeks.
"I used to stop him to ask him how he was getting on. I used to help him with his problems and he always thanked me.
"As far as we know his family saw him last Thursday. He would never say if he was going somewhere.
"He would just come in, get changed and head out the door again.
"He was his granny's blue eyed boy. He lived with her.
"She and the rest of his family are devastated."
Earlier on Wednesday local priest Fr Joe Gormley told BBC Radio Foyle Mr Cassidy was "trying to leave his past behind him".
"People in Creggan are very sad for the Cassidy family today," Fr Gormley said
"I knew Caoimhin because his granny isn't well and I visited her to give her communion. This is a huge tragedy."