Lyra McKee: Police raid Saoradh headquarters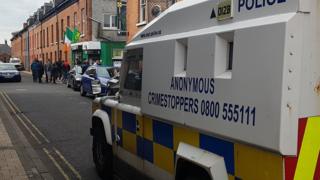 Detectives investigating the murder of journalist Lyra McKee in Londonderry have carried out searches on the Derry headquarters of political party Saoradh.
Officers seized a number of items during the raid in the Chamberlain Street area of the city. Police said enquiries are continuing.
No one was arrested.
Ms McKee, 29, was shot on 18 April while observing rioting in the Creggan area of Londonderry.
The New IRA said its members carried out the killing.
Saoradh, which translates as liberation in Irish, has the support of the New IRA.
Who is Saoradh?
Founded in 2016, Saoradh is chaired by Brian Kenna.
Saoradh, which means liberation in Irish, has the support of prisoners from the dissident group referred to as the New IRA in Maghaberry and Portlaoise prisons. Several high-profile dissidents, including Colin Duffy and Nuala Perry, have also been linked to the party.
According to its constitution, Saoradh's objective is to "effect an end to Britain's illegal occupation of the six counties" and establish a 32-county Irish Socialist Republic.
The party has been highly critical of Sinn Féin in the past, with its chairman describing members as "false prophets who have been defeated and consumed by the very system they claim to oppose".
Saoradh, which has offices in Belfast and Londonderry, campaigns for the release of all republican prisoners
Last week police said witnesses to the murder of Ms McKee could be offered anonymity if they are called to give evidence in court.
Within four days of Ms McKee's murder more than 140 people had contacted police about the shooting.
A reward of up to £10,000 has been offered for information by the charity, Crimestoppers.
Two men arrested in April in connection to the murder of Ms McKee were later released without charge.