Mark Durkan to contest European elections for Fine Gael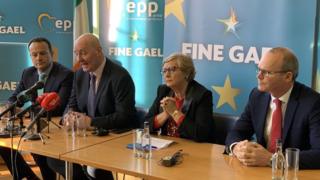 Former SDLP leader Mark Durkan is to contest the European elections in May as a Fine Gael candidate.
He will try to win a seat in the Dublin constituency.
Mr Durkan, from Londonderry, previously served as an SDLP MP in Westminster until he lost the Foyle seat in 2017.
"It's Leo Varadkar following through on the promise that he made last year that he wanted to ensure that Irish citizens in the north were not left behind," Mr Durkan told RTE News.
"I think it's a bold move on his part and on Fine Gael's part to say, 'right, one of the extra seats is coming south and we want to offer an opportunity for a northern voice to be there in the European parliament. A voice that knows the Good Friday Agreement inside out'."
'Wish him well'
Mr Durkan said it was an opportunity for him to contribute to the next stage regarding Brexit.
"I was sitting fairly frustrated looking on at the Brexit machinations and all the game playing going on there at Westminster."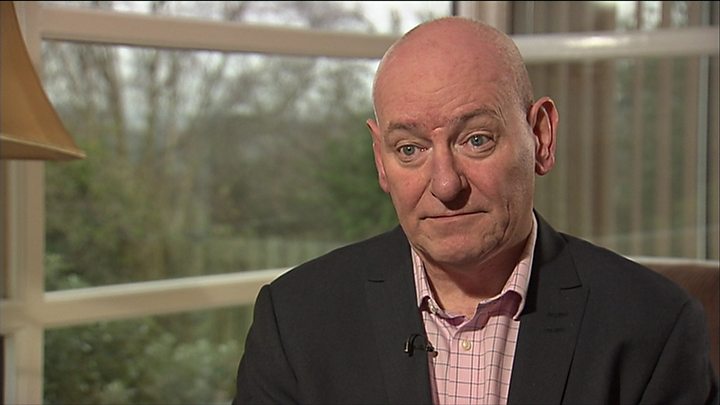 He said he was also "frustrated" at the state of politics in Northern Ireland.
Northern Ireland has been without a functioning executive for over two years.
"At a period when we're 50 years on from the civil rights movement, we are actually suffering a collective disenfranchisement at the minute," he said.
"It was a significant invitation I felt whenever Fine Gael said, 'we believe you should have a voice in the European Parliament to help and reflect the interests and perspective of Northern Ireland, but also to serve the people of Dublin as well'."
What are the ex-SDLP leader's chances?
Mark Durkan may never have represented a Dublin constituency or have political roots in the city but that doesn't mean he is a complete no-hoper in May's European elections.
It's a truism that elections are decided by campaigns and the issues of the moment and that be the case in a few weeks time too.
But there are reasons to give Mr Durkan some hope...
Read more from BBC News NI's Dublin correspondent Shane Harrison
Fine Gael senator Neale Richmond tweeted on Monday: "A serious addition to the Fine Gael family at this crucial time for our island."
He added that it would be a "big drive for two seats now in Dublin. Good Luck".
The move comes after the SDLP voted overwhelmingly in favour of a partnership with Fianna Fáil.
Nearly 70% of members - 121 - backed the leadership's proposal at a special party conference in February.
Fifty-three voted in favour of an alternative proposal to widen the arrangement to include Fine Gael and Labour.
Senior SDLP member Claire Hanna said she would never be a Fianna Fáil MLA.
Mr Durkan told RTÉ he will suspend his SDLP membership in order to run as a Fine Gael candidate.
A spokesperson for the SDLP said: "Mark Durkan provided the people of Derry with a first class public service for decades.
"He is a first class parliamentarian and his regrettable absence on the benches of Westminster has not gone unnoticed by parties and communities alike.
'Big ask'
"We wish him well in the upcoming European election. Ireland can only benefit from having Mark Durkan back on a parliament bench."
Mr Durkan said he was first approached about running as a candidate by outgoing Fine Gael MEP Brian Hayes.
If elected, he will continue to live in Derry but will have strong presence in Dublin.
He told RTÉ News: "I know this is a big ask for the people of Dublin."
Asked on BBC Radio Ulster's Evening Extra programme how the SDLP leader Colum Eastwood felt about the move, he said he spoke to Mr Eastwood and that he was "comfortable" with it.
"It's not about speculating what I'm going to do," Mr Durkan said when asked whether or not he would ever stand for the SDLP again.
"John Hume always told us to fight European elections on European issues and that is what I hope to do.
"I will pledge to work with colleagues in other parties and beyond party interests in the context of Brexit and the challenges it brings."
---
Analysis
by Gareth Gordon, BBC News NI political correspondent
In swapping his heartland for a new political challenge south of the border Mark Durkan is taking a well worn path - but at the worst possible time for the party he once led, the SDLP.
After losing the once-safe Westminster seat of Foyle in the 2017 General Election Mark Durkan probably had too much to offer politics to disappear quietly.
But he will have surveyed the political landscape in Northern Ireland and concluded toppling Sinn Fein was too unlikely for him to hang around hoping to resurrect his career closer to home.
However, his choice of Fine Gael will throw the spotlight right onto the present SDLP leader Colum Eastwood whose decision to go into a loose partnership with Fianna Fáil has already run into problems.
Former SDLP Notable Austin Currie went south in 1989 and had a long Dail career as a Fine Gael TD.
The former Alliance leader John Cushnahan was a Fine Gael MEP for 15 years.
Now Mark Durkan, once the great SDLP strategist, is going in the same direction leaving unanswered questions about the direction his former party is going in as well.
---
Taoiseach (Irish Prime Minister) Leo Varadkar said: "We are living in extraordinary times.
"We need in the European parliament people of ability, experience and vision. We need people who can speak and work for the people of the whole island, for Ireland, not just their constituency.
"Mark has experience of three parliaments. He was an MP at Westminster, he served in the Northern Ireland assembly, and he worked alongside John Hume in the European parliament.
"The final decision on who will run for Fine Gael is not mine to make. It will be made by the members of Fine Gael this Wednesday at our Dublin convention."