Londonderry: Apprentice Boys' Lundy parade takes place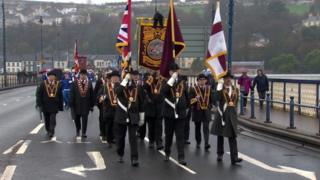 About 2,000 Apprentice Boys have taken part in the annual Lundy's Day parade in Londonderry.
The event commemorates the 17th century Siege of Derry.
The Apprentice Boys were joined by 23 bands in the main parade on Saturday afternoon.
There was also a service of thanksgiving in St Columb's Cathedral and the event ended with a burning of an effigy of Lt Col Robert Lundy, known as Lundy the Traitor.
Graeme Stenhouse, the governor of the Apprentice Boys, said work had been done to make sure the parade was a peaceful one.
"We've made great steps over the last few years in the way that we've conducted ourselves and the way that our parades are conducted," he said.
"I would like to think that the nationalist majority in Londonderry appreciate the hard work that is going on."
It was "yet another successful" Lundy parade, according to Ch Insp Jonny Hunter of the Police Service of Northern Ireland.
"There's no doubt about it, there's great value in listening to each other, engaging early on and working together to solve issues before the become a problem," he added.
The history of Lundy
Robert Lundy, who once held the title of governor of Derry, gained his reputation for treachery among unionists due to his offer to surrender to the Jacobite army five months later.
The marchers commemorated an event known as the Shutting of the Gates - when 13 apprentices locked the walled city's gates against the approaching army of the Catholic King James II in December 1688.
The Siege of Derry lasted 105 days and cost over 10,000 lives, the majority of them civilians.