Londonderry: Waterside van shooting 'attempted murder'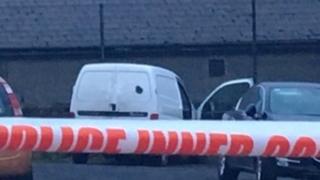 The PSNI has described a shotgun being fired at a van in Londonderry as attempted murder.
The incident, involving a community worker's van, happened at Clooneyville Avenue at 20:00 GMT on Monday.
Det Con Richard Donnell said: "The blast struck the rear of the van, breaking the window and lodging pellets in the passenger headrest."
The 37-year-old man was alone in the vehicle. He was not injured but has been left badly shaken.
The PSNI said there will be an increased police presence in the Waterside following the incident and that the gunman may have made his escape "on foot along an alleyway that runs down the back of Bonds Street".
PSNI Ch Insp Johnny Hunter described the attack as "a determined effort to kill" and said detectives were trying to establish a motive for the attack.
"This was attempted murder," said Mr Hunter. "I know it can be tough for people but we need people to come forward."
'Worrying'
DUP councillor David Ramsey told BBC Radio Foyle that the man who was in the van works for a restorative justice project called Resolution North West and that the attack was "attempted murder".
"He crashed the van trying to get away," Mr Ramsey said.
"The headrest was blown off because of the shots - he wouldn't be with us today if he didn't get away quickly.
"He was actually reversing on to the footpath at the side of his house and he saw the gunman stepping out.
"He had no where to go so he ended up driving into a wall - as he was getting out the shot was fired."
Mr Ramsey said it was not clear why the man was targeted.
"This is a man who works in the community - this is really worrying.
"It takes brave people to get involved in this type of work.
"He was never under any other kind of threat before. There are a lot of angry people in the Waterside because of this."