Moville: Arson attack at Donegal hotel 'could have killed'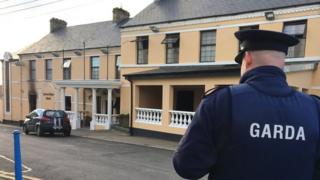 Police have said an arson attack on a County Donegal hotel set to house around 100 asylum seekers could have been fatal.
Gardaí (Irish police) said they believed the attack on the Caiseal Mara Hotel in Moville, early on Sunday, was carried out by someone from the local area.
The first asylum seekers are due to arrive in Moville in the coming weeks.
Det Insp Pat O'Donnell said it was fortunate no one died in the attack.
A man in his 50s was treated in Letterkenny Hospital for smoke inhalation and the hotel was extensively damaged by the fire.
"I believe someone in Moville or in the surrounding area is responsible for this particular crime," Det Insp O'Donnell said.
'Reckless act'
"Those persons would have known that people live in that hotel. That makes it all the more disturbing."
He added: "The owner of the hotel was in the hotel at the time, and he suffered smoke inhalation - thankfully he escaped with his life.
"It was a reckless act that could have resulted in a fatality."
Det Insp O'Donnell said the attack had "shocked and horrified the local community".
Irish Justice Minister Charlie Flanagan condemned the attack.
"This was a despicable incident and could have led to very serious tragedy," said Mr Flanagan.
'Remain committed'
An Irish Department of Justice spokesman said it is not yet known if the attack will delay plans to use the hotel as an accommodation centre.
"Until a full assessment of the damage has been carried out, the department won't be able to decide on the impact of any delay that may arise from this incident.
"Notwithstanding this, we will continue to source accommodation, in line with our legal and humanitarian commitments, for those seeking international protection in Ireland," the spokesman said.
He added: "A full investigation is underway to determine the cause of the events that took place there and the level of any damage caused. Following that review, matters will be reassessed as necessary.
"We remain committed to working with the local community to ensure that the best possible support is provided to those seeking international protection."
Sinn Féin Senator Pádraig Mac Lochlainn urged anyone with information to come forward.
"The vast, vast majority of people in Moville and Donegal reject racism or intimidation.
"They reject the person or persons responsible for this shameful arson attack that could have led to the death of the family that own the hotel and they reject those persons who have issued threats against the family," he said.