Stowaway Brazilian gecko hitches ride in box of melons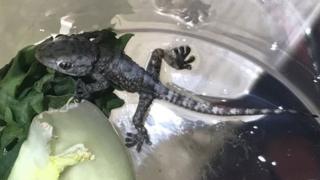 A lizard from Brazil has landed in the Northern Ireland village of Aghadowey after hitching a ride in a box of melons.
Staff at Sydney B Scott's fruit wholesaler found the Moorish gecko, nicknamed Ernie, while cleaning on Monday.
Business manager Peter Scott said Ernie arrived in a box of Brazilian melons.
The inch long gecko, has now been homed in an animal shelter in nearby Portrush.
Mr Scott told BBC Radio Foyle's Mark Patterson Show Ernie might only be a few days old.
'Eating bugs'
"One theory is his egg was laid in the box of melons and he hatched at some point over the Atlantic Ocean," he said.
He said after an epic 5,500 mile transatlantic journey, Ernie has now "gone to a good home."
"He is living in a wee tank, eating bugs, living his best life," Mr Scott added.
Moorish geckos, also known as crocodile or wall geckos, are native to the western Mediterranean region of Europe and North Africa but have been widely introduced into America and Asia.
Fully-grown adults can reach up to 15cm (6in) in length.