Lucky the cat shot in 'despicable' pellet gun attack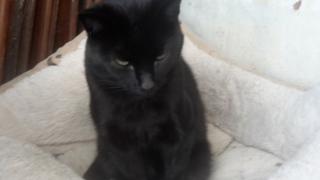 Police have appealed for help to trace a person who shot a cat with a pellet gun in Londonderry.
Twenty-five pellets have been removed from the black cat, called Lucky.
A spokesperson for the PSNI said it has been left with serous injuries.
It happened sometime on Thursday afternoon close to its owner's home at Tullymore Road. Officers said the owner, a Derry grandmother, had been left distraught.
"I have been sitting here wondering how to word this post without typing exactly what is on my mind but here goes," a PSNI officer posted on Facebook.
"Officers have just spent time consoling a grandmother who found her wee cat with serious injuries. It is presently with the vet who has stated it has been shot with a pellet gun and has 25 pellets in its body.
"The cat would not go far from its home on the Tullymore Road, Londonderry."
Police asked anyone with "information that can help us find the despicable excuse of a human being that caused this" to come forward.