Derry man wins Prince's Trust Award for raising his sister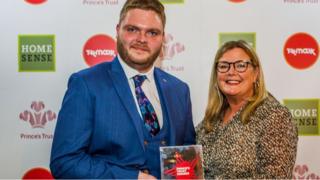 At 21, the norm for many of us was student nights out at a bar with £1 drinks, followed by the inevitable sleeping in and missing the nine o'clock lecture the following morning.
But for Ryan Pleijzier the student lifestyle suddenly stopped and he was thrust into adulthood.
Life changed forever when his mother Catherine died in 2014 from liver disease.
Following the loss, he dropped out of university to raise his sister Megan and stop her being put into care.
It was this selflessness which led to the now 26-year-old Londonderry man receiving the Homesense Young Achiever Award at The Prince's Trust Awards on Monday night at the Lyric Theatre in Belfast.
The awards recognise the achievements of young people who succeeded despite the odds against them, and have improved their chances in their own life, as well as those in the community around them.
Looking after Megan
Ryan spoke to BBC Radio Foyle about the past four years and the challenges he faced leaving his education behind in favour of becoming a legal guardian.
"It suddenly became very different - nothing can prepare you for it. There was a consideration that she'd have to be put into care, put into a care home and go through the fostering system.
"I just thought that I couldn't let that happen, so I just packed university in. I could always go back - it's not that big a deal.
"It was only a year, but then it sort of turned into four years later and I'm still not back, but Megan just wasn't going into care. I didn't want her to.
"The thought was that it'd be easier for everybody if I just left university and came back to Derry and looked after her," he recalled.
Admittedly, Ryan didn't find it quite as easy as he first thought it may be.
Having to grow up so quickly meant there was a complete lifestyle change as he took on the cleaning, cooking, bills and all of the other roles that come with being a parent.
"I was really, really bad at the beginning. I was awful at it. Paying bills and stuff, managing the money. I was never even good at managing my own money but you just have to learn overnight.
"You can't just be out partying. You're 21 and all of your friends are out in the bars and stuff, meeting girls and all that, while you're in the house cooking dinner for your younger sister who is sitting her GCSEs and A-levels.
"And she also wants to go out and meet her own friends, but you're sitting in the house brushing and mopping - it was awful."
How The Prince's Trust changed his life
It was a friend of Ryan's that put him in touch with the Prince's Trust after he spotted a Get Into Cooking programme, which he knew would be of interest as Ryan always fancied the thought of being a chef, due to his love of cooking programmes on TV.
Despite his nerves and self-doubt, he decided to give it a go.
"I love cooking for myself and for family and stuff in the house," said Ryan.
"I wasn't working at the time so thought, 'Why not, I'll give it a go'.
"I got a placement out of it at the Bishop's Gate Hotel and they kept me on and I'm still there now.
"They just made me a chef there recently. It's a hard job, but my mum used to say, 'If it's not hard then it's not worth doing'."
What does the future hold?
Ryan has obviously done incredibly well looking after Megan, who is currently in Canada, working as a dog-walker in Montreal while learning to speak French.
For now, Ryan is enjoying his new job in Derry but he would still like to return to university.
"I don't know where and I don't know when, but at some point I'd like to go back. Maybe once I've saved up a bit of money," he said.
"You know, what we went through - our loss - it wasn't good. But you just have to suck it up and keep going.
"I really don't know what the future holds, I just take it day by day and see how it goes.
"But my mum would have been proud. She would have loved it."