Londonderry factory girls sculpture shelved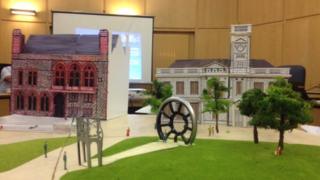 An unfinished sculpture to remember Londonderry's shirt factory workers has been shelved after costing £85,000 of public money.
Artist Louise Walsh originally started work on the factory girls artwork in 2006.
Derry and Strabane councillors were told on Tuesday it would now cost more than £330,000 to complete.
Stormont's Department for Communities, which funded the project, said it no longer represented value for money.
Redesign
The department told the council the project would no longer go ahead, but a tender process for a new sculpture would now begin.
Mayor of Derry John Boyle said £85,000 had been spent to date on the incomplete artwork.
"The decision has come down to the Department for Communities, they are not prepared to fund it anymore," he told BBC Radio Foyle.
"The initial costings were £85,000, the new cost for the completed project, provided by the artist taking into account a redesign, is an additional £244,000, resulting in a total cost of £330,000."
He said the council had "always been very supportive of the project".
"We won't be starting again from the very beginning," he added.
"Planning permission has already been granted - that's a major obstacle or hurdle that's already been overcome."
'Still committed'
The sculpture has been beset by problems since being commissioned by the then Derry City Council.
It was to be located at King Street in the Waterside.
That was then changed to Harbour Square due to planning problems and the move required a redesign of the original piece that meant costs spiralled.
While thanking the artist for her "time and effort", the Department for Communities acknowledged the decision to now shelve the project was "disappointing" but it could not justify investing further money into the scheme.
"Given the passage of time, the cost of completing the project would now result in a total project cost of almost four times the original budget meaning that, regrettably, the project no longer represents value for money," a spokesperson said.
"The Department and Derry City and Strabane District Council are still committed to commemorating the contribution of factory workers."
At the turn of the 20th Century, there were more than 30 shirt factories in Derry.
The firms employed thousands of people, mostly women and girls.