Sinn Féin and SDLP clash over Londonderry city deal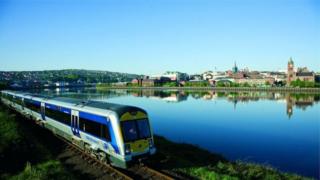 Sinn Féin has denied claims that it wants County Donegal included in Londonderry's city deal bid.
It comes after a row broke out at Derry City and Strabane District council on Tuesday.
The SDLP said the party is jeopardising the city deal bid by making reference to cross border projects.
But Sinn Féin said at no point did it state the bid document should include Donegal.
City deals are packages of funding and decision making powers which allow councils to boost the economy through large projects and are funded by the UK Treasury.
What is a city deal?
A City Deal is an agreement between government and a city. It gives the city and its surrounding area certain powers and freedom to:
Take charge and responsibility of decisions that affect their area
Do what they think is best to help businesses grow
Create economic growth
Decide how public money should be spent
Derry City and Strabane District council is in the final stages of submitting a bid.
Council representatives met senior government officials in London last week to discuss the bid for the multi million pound economic package.
'Obstacles'
SDLP councillor Tina Gardiner said Sinn Féin was putting the bid at risk by referring to projects that have a cross border element.
"London are not interested in that, we were told very clearly this city deal funding is for the UK regions only," she said.
"Why would we continue to tinker around the edges of that and possibly put obstacles in the way"
She said should Derry's bid fail "it will be clearly at the door of Sinn Fein."
But Sinn Fein councillor Mickey Cooper, who addressed the council meeting on Tuesday, said at no point did he state "the city deal proposals included Donegal or should include Donegal directly."
He said conversations are ongoing with the Dublin government and the Treasury about ways of "being more imaginative."
"Any proposals that would include a cross border element, if within the city deal, would be with the agreement of the British treasury and the Dublin government, it would not be contradicting their positions," he said.