Free sanitary products to be offered by NI council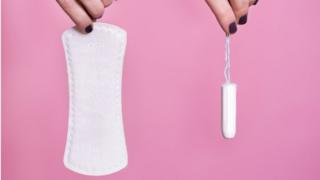 Derry City and Strabane District Council has become the first local authority in Northern Ireland to offer free sanitary products in some of its public buildings.
Sinn Féin councillor Sandra Duffy's motion passed unanimously at a meeting in Derry on Thursday.
It follows an increased awareness of the impact of period poverty.
The council will also write to other public bodies to have the initiative extended to schools and hospitals.
Councillor Duffy said she was delighted the vote passed unanimously.
Her motion called for councillors to back the 'On the Ball' campaign which aims to have free sanitary products in as many public buildings as possible.
She said councillors felt that "if we could do anything to take this forward then we should do it".
"Girls have enough barriers put in their way throughout their life, they do not need their period to be another barrier.
"We need to address this, it is a natural issue not a taboo subject, something we do not need to discuss in hushed tones," she added.
Cllr Duffy said she hoped other councils in Northern Ireland will follow suit.
"I hope that more councils adopt my motion and support the growing efforts to eradicate period poverty and highlight the issue at every opportunity.
"For many people it's a very private issue so as elected representatives it's our job to help bring about change and practical ways of support," she said.
The move comes on the back of an increased awareness of the impact period poverty has on women.
Laura Coryton of the Stop Taxing Periods campaign said the council vote was "a great step".
"It is necessary because period poverty is an invisible poverty that can happen to any girl at any time from any background," she said.
A council spokesman said: "As an initial step, council will look at the feasibility of its introduction at the Guildhall, council offices in both Derry and Strabane and council-owned sports and community facilities."