Bloody Sunday victim awarded £193,000 in compensation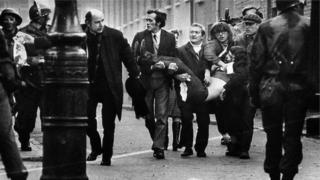 A man shot in the face by a soldier on Bloody Sunday has been awarded £193,000 in a civil compensation case.
Michael Quinn was a 17-year-old schoolboy when his cheekbone was shattered by a bullet. He also suffered nerve damage to his lip and eyelid.
Thirteen people died after members of the Army's Parachute Regiment opened fire on civil rights demonstrators. A fourteenth person died later.
The judge said the payment was for the "pain, suffering, and injury" endured.
Mr Justice McAlinden told Belfast High Court on Thursday that Michael Quinn will "continue to endure" the pain suffered as a result of his injuries.
About 10,000 people gathered in the Creggan area of Derry on the morning of Sunday 30 January 1972 to take part in a civil rights march.
After prolonged skirmishes between groups of local youths and the Army at barricades set up to prevent the march reaching its intended destination (Guildhall Square in the heart of the city), paratroopers moved in to make arrests.
During this operation, they opened fire on the crowd.
There have been a number of investigations into the deaths, including the Widgery Tribunal - which was later described by some as a whitewash.
In 2010, the Saville inquiry found that those killed or injured on Bloody Sunday were innocent.
The then prime minister, David Cameron, issued a public apology for the actions of the soldiers, describing the killings as "unjustified and unjustifiable".
Claims have been brought against the Ministry of Defence by those bereaved or wounded.
With liability accepted, three test cases were selected for arguments on the level of damages.