Archaeologists to unearth Siege of Derry secrets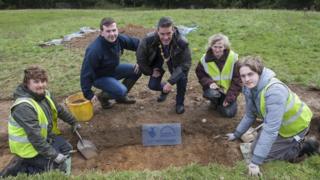 An archaeological dig has begun on the banks of the River Foyle to pinpoint the exact location of an artefact from the Siege of Derry.
Queen's University Belfast experts started excavations on land at Boom Hall on Thursday.
It's part of the Siege Museum's Big Dig which will also excavate land at the site of the Siege-era fort at Culmore.
The Siege of Derry in 1689 is seen as a pivotal moment in the history of Ireland, Britain and Europe.
It took place against the background of the deposed Catholic King James II's attempt to regain his crown from his Protestant son-in-law, King William III.
The boom, a river-wide barrier, built by the James' forces kept Prince William's men from reaching Derry during the siege of 1689.
Lead archaeologist Ruth Logue told BBC Radio Foyle's Mark Patterson Show the dig follows on from a geophysical survey that identified a number of anomalies at the site.
She said based on Captain Neville's Siege era map, the belief is that they are the trenches of the Jacobite army forces who defended the boom.
"We know the boom was in this area, but we do not know exactly where.
"We would like to be able to pinpoint these trenches, it would add a lot more to the story of the Siege," she said.
The 105-day siege of the city in August 1689 ended when Williamite forces aboard the Mountjoy broke the boom, sailed up the Foyle and relieved the city.
William of Orange, or King Billy, the new monarch was supported by Protestants in Derry, who shut the gates of the walled city to keep out the advancing Jacobite army.
Siege Museum chairperson William Moore said he was delighted work was underway at the site.
"The museum is dedicated to preserving and developing the story of the 1689 Siege and these digs will add greatly to our knowledge about these Jacobite Siege sites," he added.
Derry City and Strabane District Council say they will be announcing details of plans to open the excavation site up to the public shortly.