Former Derry primary school damaged in arson attack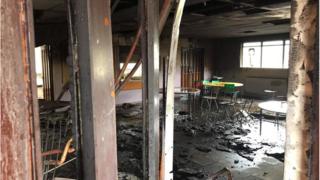 A former primary school in Londonderry has been badly damaged in an arson attack.
Police officers and the Northern Ireland Fire and Rescue Service were called to the scene on Monday night.
A fire fighter sustained a cut to his arm after entering the property. He was treated in hospital but the injury is not believed to be serious.
A PSNI spokesperson said the fire caused "substantial damage".
The spokesperson also said that those responsible put their lives and the lives of firefighters at risk, as well as residents in Clooney, Ebrington and Bond Street.
The building, which has been targeted by arsonists a number of times, has been derelict since the school moved to another premises in April 2017.
'More dangerous'
Warren Kerr, assistant group commander of the fire service, told BBC Radio Foyle that he believed local children could be to blame.
"Unfortunately, these incidents have been happening over the months and they need to stop," he said.
"This anti-social behaviour puts people at risk.
"It also means our resources are tied up. We had a firefighter who was injured last night. Glass fell and it went into his arm. He was treated but it's not serious.
"This site is becoming more and more dangerous for us to visit.
"If anyone has any knowledge about what happened then please contact the police. I believe they are local young people. I would even say children."