'Prolific criminal' gets three year jail term for burglary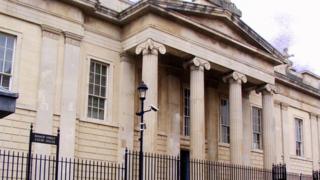 A man who has amassed 248 convictions by the age of 35 has been jailed for three years at Londonderry Crown Court.
John Patrick McGilloway, 35, was given a three-year sentence for breaking into the Wolf Shack Grill Bar in Derry and stealing £340 from the till.
McGilloway was caught loitering outside the premises wearing a camouflage jacket on CCTV in the early hours.
He was recognised by police officers upon viewing the CCTV footage but denied that it was him in an interview.
He eventually plead guilty ahead of his trial.
Judge Philip Babington told McGilloway in court, that if he had contested the offence before a jury, he did not think the jury would have had much difficulty in convicting him.
"Your offending is appalling.
"For you to have accumulated that record at your age is quite appalling and your offending is just not fair on the rest of the community", he said.
A defence barrister said it was neither a pre-planned nor sophisticated offence, acknowledging McGilloway's "horrendous cycle of offending".