Drunk driver who broke policeman's ankle jailed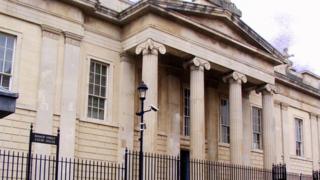 A drunken motorist who fractured a police officer's ankle while resisting arrest has been jailed for 18 months.
David James Watson Houston was spotted driving erratically on 29 October last year.
Londonderry Crown Court was told that when stopped on the city's Victoria Road the 35-year-old had struggled with police.
An officer sustained a broken ankle and was unable to work for nearly a year.
Judge Philip Babington told Houston, his behaviour was "absolutely disgraceful".
The defendant, from Donemana, County Tyrone, who several years ago was shot by a paramilitary gang, admitted assaulting police officers, driving without insurance and possessing cocaine.
He also admitted taking his mother's van without permission.
The court heard when officers stopped Houston he was unsteady on his feet, his speech was slurred and there was a strong smell of alcohol from his breath.
One of the officers activated his body-cam and recorded the entire incident, the court was told.
As the police continued to struggle with Houston they had to discharge CS spray in order to restrain him, but Houston grabbed the body camera and ran off.
He returned several minutes later by which time police reinforcements had arrived.
The court was told Houston grabbed one of the officers and both men fell to the ground.
The officer sustained a fracture to his ankle that required the insertion of metal plates and screws. He was off work for 10 months.
When subsequently arrested and searched, a small quantity of cocaine was found on the defendant.
Judge Babington said Houston had taken his mother's van with the intention of going to the beach.
"The whole episode was total madness. This was a disgraceful incident in which a police officer was seriously injured", he said.
Houston was also disqualified from driving for three years.