Appeal over separating parents manipulating children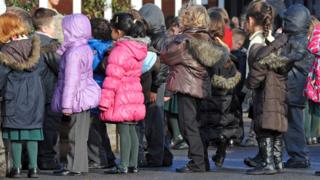 A domestic violence group in Londonderry has called for guidelines to be introduced in Northern Ireland to help prevent "parental alienation" during family break-ups.
Parental alienation is the deliberate manipulation of a child by one parent against the other.
Social workers in England are being given new guidelines to help deal with such cases.
The group, La Dolce Vita, said they have dealt with "too many cases".
'Brainwashing'
Donna Marie Logue, from La Dolce Vita, told BBC Radio Foyle: "Some parents have had sleepless nights and are squealing inside for someone to help them.
"Some people are using their child as revenge. They know what they are doing.
"There's a lack of expertise in our courts here in Northern Ireland. Perpetrators are not being prosecuted for false allegations.
"Being taught to hate another parent is a form of brainwashing. The parental alienation bill needs to be brought forward here."
A spokesperson for Northern Ireland's Department of Health said: "The department welcomes this initiative being taken forward by the Children and Family Court Advisory and Support Service, who introduced the guidelines in England.
"Relationship breakdown effects a significant number of families across Northern Ireland.
"In policy terms, we support the provision of assistance to parents earlier in the process of separation to manage the impact this can have, in particular on children."
The spokesperson added that the department is working to provide early support to separating couples to minimise the potential negative impact on children.